Research helps improve Mechanical Thrombectomy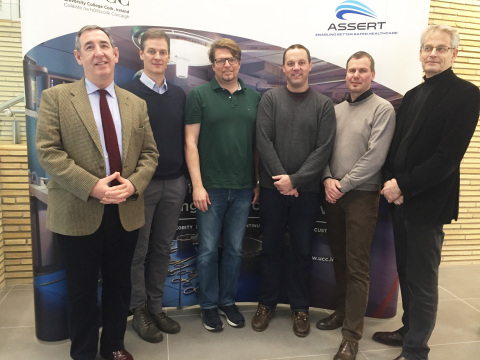 GOTHENBURG, Sweden, Mentice welcomes the publication of a research paper in the jounal "Stroke" based on the use of its VIST® physics-based, high-fidelity simulator to train interventional neuroradiologists (INRs).
The paper, Metric-Based Virtual Reality Simulation for Mechanical Thrombectomy—A Paradigm Shift in Training for Mechanical Thrombectomy in Acute Stroke, researched the use of high-end virtual reality simulation for the acquisition of skills for this minimally invasive procedure.
Mechanical thrombectomy is a life-saving procedure in which a clinical device is introduced into the affected brain's vasculature to mechanically remove a blood clot. With several significant studies published during 2015, mechanical thrombectomy has been established as the most effective and preferable solution for ischemic stroke. Despite this, initial acquisition of skills for new operators as well as maintenance of skills for lower volume operators and centers are factors that limit the access for patients to safely receive this novel treatment.
Funded by a grant from the Swedish innovation agency VINNOVA, Mentice has worked with a group of senior INRs and the ASSERT Center at University College Cork to develop and validate a simulation-based training system that can objectively, consistently, and reliably quantify the performance levels of physicians wishing to become proficient in mechanical thrombectomy.
The system uses metrics derived from experienced INRs to establish a level of proficiency, i.e. a performance benchmark, that physicians must reach before performing on real patients. This offers a standardized and quality assured approach to acquire, maintain and assess the endovascular skills needed for this procedure.
"Providing timely and high-quality treatment for ischemic stroke," says Mentice CEO Göran Malmberg, "is one of today's largest healthcare opportunities. High-fidelity simulation combined with proficiency-based progression is a disruptive solution that can help this transformation of healthcare."
This solution is created with the purpose of assisting in a safe and effective roll-out and expansion of the treatment of ischemic stroke using mechanical thrombectomy. The paper concludes that metric-based simulation training can supplant a significant part of the learning curve on real patients and serves as a powerful tool to reproducibly augment the practical skills of endovascular procedures.
"Mechanical Thrombectomy for acute stroke," says Professor Tony Gallagher of ASSERT, "is a life-changing treatment for many acutely ill patients. The success of the treatment is determined in no small part by the skills of the physician performing the procedure. The VR simulation that we describe, and the training methodology will be used to enhance, and quality assure the learning experience and training of doctors. Conceptually and intellectually appealing, it represents a paradigm shift in how doctors are prepared for the treatment of acute stroke."
About Mentice
Mentice is the world leader in virtual reality‐based interventional medical simulation solutions. Our solutions help healthcare professionals with skills acquisition, continuous development and preprocedural planning—leading to improved productivity and outcomes. Mentice solutions are scientifically validated, and have been specifically developed for healthcare providers and the medical industry. Neurovascular, cardiovascular and peripheral interventions are just some of the areas covered by our systems.
Learn more about the features and benefits of Mentice solutions at: www.mentice.com.
https://assert.ucc.ie/wp-content/uploads/2018/11/Mentice.jpg
360
480
granitewordpress
https://assert.ucc.ie/wp-content/uploads/2018/07/Footer_Assert-logo.png
granitewordpress
2018-06-11 14:10:30
2018-11-07 08:26:48
Research helps improve Mechanical Thrombectomy