On Foot or Bicycle
The ASSERT Centre, Brookfield Health Sciences Complex is located on College Road, Cork. Once you enter the complex the ASSERT Centre is located in the yellow brick building in front for you.  Follow the footpath to the finger post sign and enter through the door on your left.
Parking is not available in the complex please follow the link for Parking Options
Bicycle Parking is available throughout the Campus.
To walk from the city centre to UCC takes 15-20 minutes.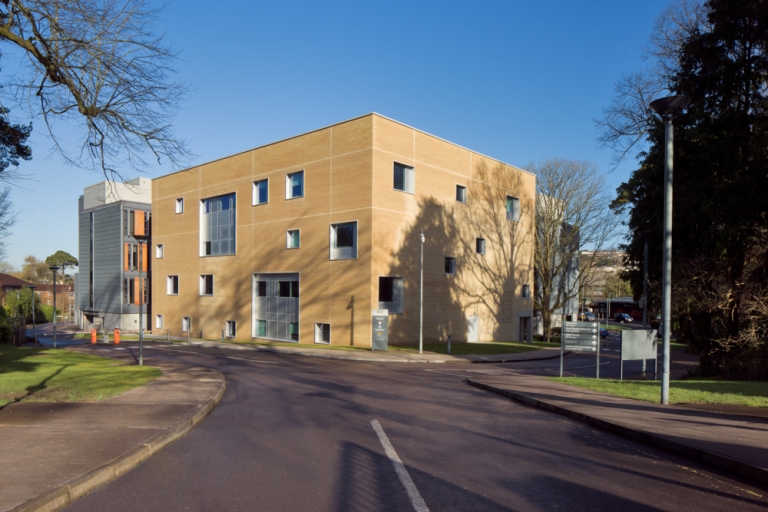 By Bus
Cork Bus Station is located at Parnell Place in the city centre. The bus station is served by all Bus Eireann local and intercity services.
To get to UCC, use city buses No 205 ('CIT/Rossa Avenue') or No 208 ('Bishopstown') from the bus station or at nearby St Patrick Street (outside Debenhams). The bus stop code for UCC (College Road) is 241741. City Bus No 205 stops on College Road near the ASSERT Centre.
Also see Train and Bus to UCC map or the National Journey Planner.
By Coach
There are express coach services to Dublin and Dublin Airport (operated by Aircoach and GoBe) and to Limerick/Galway (operated by CityLink).
By Train
Train services by Iarnród Éireann (Irish Rail) to Cork stop at Kent Station.
Hourly intercity services to and from Dublin Heuston Station take between 2.5 and 3 hours. There are also frequent commuter services to/from Mallow, Midleton and Cobh.
City bus No 205 services operate between Kent Station and UCC.
For details, see www.irishrail.ie
Taxis from the train station to UCC cost about €10.
See the Train and Bus to UCC Map.
By Air
Cork Airport is 8 km south of Cork city centre (Airport to UCC).
There are several flights a day from London-Heathrow or Amsterdam (both AerLingus) and London Stanstead or Gatwick (RyanAir). For other destinations in the UK (e.g. Glasgow, Edinburgh, Manchester) and continental Europe see Cork Airport.
Bus connections to/from the airport are provided by Bus Eireann (route No 226 to Cork Bus Station).
A taxi journey to UCC will take 10–20 minutes and will cost about €12–18.
By Car
From City Centre (Grand Parade):
take Washington Street/Western Road towards the west (marked 'Killarney/West Cork')
pass the River Lee Hotel (on your left)
at the next traffic lights, turn left
drive up O'Donovan's Road and turn right on to College Road. UCC's visitor car park is immediately on your left (entrance from Perrott Avenue)
UCC's main vehicle entrance is 200m on your right.
Brookfield Health Science Complex is a further 500m up College Road on the right, where the road bends.
A second visitor car park can be accessed by continuing straight along Western Road to the next traffic lights (Gaol Cross) and turning left. Perrot's Inch car park is 50m on your left, before the small bridge.
For the Western Gateway Building, continue down Western Road. The entrance is on your left.
From Limerick (N20):
Follow the N20 into Cork until you cross the River Lee (Cork Opera House is in front of you)
Turn right onto the quays and pass two more bridges to your right (You'll see the Gate Cinema on your left)
Take the first road to the left (Grattan Street)
At the third traffic lights turn right into Washington Street.
For all other routes:
From the South Ring Road (N40) to Wilton/Sarsfield Road Roundabout, follow signs for Cork University Hospital/City Centre.
Pass the Wilton roundabout, exiting at Wilton Road.
Turn right at the next traffic lights (Dennehy's Cross) and keep left at the next roundabout for College Road.
For Western Road continue down Wilton Road,  follow the right bend and cross the bridge. The UCC Western Gateway Building is on your right. At Gaol Cross turn right, Perrott's Inch car park is on your left.
Cork City and Main Approach Routes
Visitor Parking & Deliveries
The two main visitor car parks are located at:
Perrott's Inch (P1, off Western Road)
College Road (P2, entry from Perrott Avenue)
Both car parks are charged for by the hour. Download the Visitor Parking (1,222kB) (1,222kB) Map.
Visitor parking is also available at:
Western Gateway Building
Brookfield Health Science Complex
North Mall Campus
Pay and Display tickets here are €2 per hour.
Please note that access to all other on campus car parks is restricted to permit holders Monday to Friday, 8am–5pm.
€2 Charge on Exit after 7pm
There is a €2 charge on exit after 7pm from the main campus, Geography Car Park, Aras na Laoi Car Park and Food Science Car Park.  The North Mall car park is charged at €2 from 5pm on entry for operational reasons.
Note: Swipe key holders can swipe out as usual from these car parks, the €2 charge on exit after 7pm does not apply.
Visitor Car Parking Rates
*If parking started before 18.30, the cut-off applies to hours of parking commencing after 18.30
Park and Ride
UCC also provides a Park and Ride service with frequent shuttle buses from its Pouladuff P+R car park near the N40 South Ring Road ('Togher', exit 7) or the Black Ash P+R at the Kinsale Road Roundabout (October–May, N27/N40, exit 6). Shuttles operate 8am to 6.30pm (from/to Black Ash 9am to 6.30pm) and take 10–15 minutes. Download the Park + Ride (104kB) (104kB) Map.
Deliveries
There are restrictions on truck movements on Campus.  In order to minimise risk, it is necessary to have all truck deliveries completed and off campus before 8am. Truck deliveries arriving on campus after 7.45am will be turned away.  Vans will continue to be given access during the day, however, we would ask that where possible these deliveries be completed by 8am also.
Short term parking for delivery vehicles is at the discretion of the security staff at the main campus Security Centre who can be contacted at each entrance barrier. Deliveries must not obstruct access. The Security Centre (Ext. 2266) should be contacted before large delivery vehicles access the campus.
Geo-coordinates
UCC main campus:
Perrott's Inch (P1) visitor car park: 51.89402; -8.49441
College Road (P2) visitor car park: 51.89212; -8.48969
Main vehicle entrance College Road: 51.89232; -8.49283
Brookfield Health Science Complex:
Western Gateway Building: