Below are some common questions we receive about ASSERT and our courses and educational events. If we can be of further assistance, please contact our team on (021) 420 5605
How to get to ASSERT?
https://www.ucc.ie/en/discover/visit/getting-here/
https://www.ucc.ie/en/ebm/brookfield/
EIRCODE / POSTCODE:
T12 DX01
SAT NAV CO-ORDINATES:
Parking
Please see options for parking when visiting ASSERT:
The Bons Secours Hospital – Pay & Display Parking.  (Right on the map)

UCC Park and Ride, (Presentation Brothers, Magazine Road) – free parking.  (Bottom on the map)

Sacred Heart College Church – Pay & Display which costs €4.40 per day (Top of Map)

Church of the Descent of the Holy Spirit, Dennehy's Cross – Pay & Display which costs €4.40 per day (Bottom left on map)
ASSERT is within walking distance from both locations.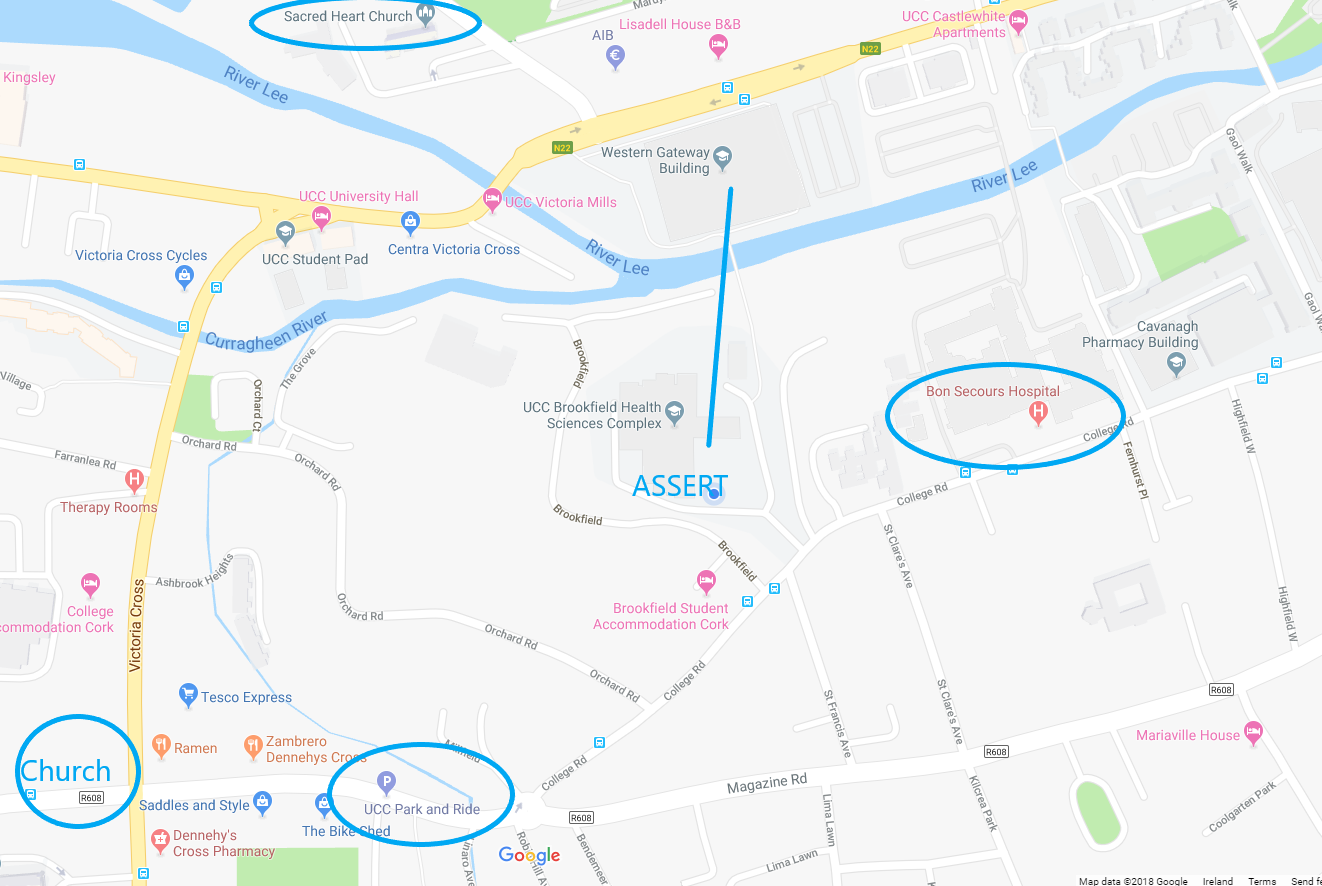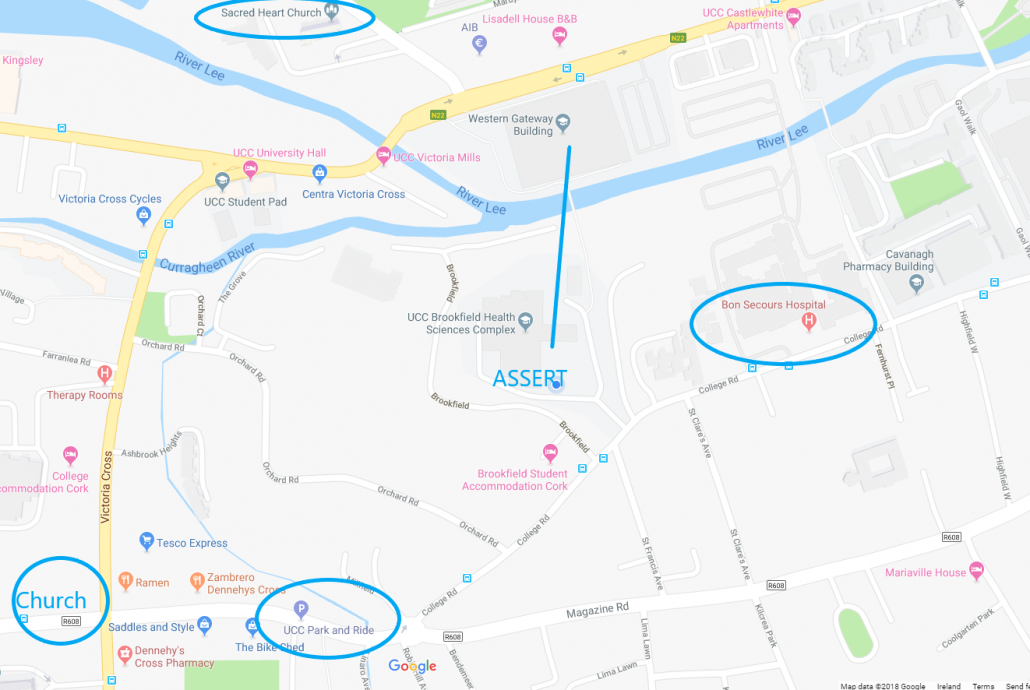 COVID-19
Providing up to date information on UCC's response to COVID-19
How do I sign up for a course?
Please register online using the "Expression of Interest" button, which is featured alongside the course.
How do I pay for a course?
Please pay using our online payment button, which is featured alongside the course.
What happens if I cannot attend a course that I have already paid for?
Please notify us in writing of your inability to attend and also call our offices on (021) 420 5605.
The following applies to all cancellations:
Cancellations advised in writing (30 days) will be refunded in full, less an administration fee of 10% of the course fee.

Cancellations received between 16 and 29 days prior to the event will receive a 50% refund less an administration fee of 10% of the course fee.

A refund will not be granted if a registrant cancels up to two week before the course or fails to attend.

Full payment is required on registration.

ASSERT reserves the right to cancel planned workshops, conferences, symposia, courses or other events held by ASSERT, even at short notice.

In the event of cancellation, all paid ASSERT fees will be refunded. This precludes any other claims.

If a nominated presenter is unable to present at an ASSERT event then another presenter will be engaged by ASSERT

.
What responsibilities do I have when attending an ASSERT course or event?
If requested, participants must be able to provide proof of professional status.

Participants must arrange their own parking in accordance with UCC Parking Options.

ASSERT will not be liable for loss of personal property or parking fines incurred.

Participants agree to read and abide by all ASSERT Health and Safety Guidelines provided.

Participants agree to read and sign a Code of Conduct Form prior to entering the Surgical Skills Lab.

Participants agree to read and sign a Consent Form re confidentiality and photography/video prior to entering the SIM Suites.

Participants will not take photos when in the Surgical Skills Lab or SIM Suites, unless approved by an ASSERT staff member.
What is the ASSERT Privacy Statement?
https://www.ucc.ie/en/it-policies/policies/privacy/
ASSERT is committed to protecting your privacy and the confidentiality and security of personal information provided by you to us.
The personal information you provide on registration forms will be used by ASSERT to:
Process your registration form, which may include updating your record and profile information;

Contact you in the event of cancellation

Conduct analysis or market research to identify the ongoing needs of registrants

Provide you with access to information about a range of current and future courses and associated events administered by ASSERT
ASSERT may disclose the personal information, which you provide to external service providers to whom we have contracted out functions such as printers or mailing houses, but only for the purposes outlined above.
Please contact ASSERT if you would like to access or correct the personal information we hold about you.
What should I wear to a course at ASSERT?
Changing rooms are available at ASSERT, please bring a €1 coin for the lockers

In line with our Health and Safety Policy, please wear closed in shoes

As the Surgical Skills Lab is maintained at an even cool temperature, warm clothing is strongly recommended.