The Self-Harm Assessment and Management Programme for General Hospitals in Ireland (SAMAGH)
If you wish to book or further enquiry about the SAMAGH Training Programme, please contact: Dr Isabela Troya, Email: isabela.troya@ucc.ie T: 021 420 5593
Suitable for :
Clinical Nurse Specialists, Non-Consultant Hospital Doctors, Clinical Psychologists, Psychiatrists, and Psychiatry Registrars.
Dates :
16/01/2020 - 17/01/2020

SOLD OUT

09/03/2020 - 10/03/2020

SOLD OUT

30/03/2020 - 31/03/2020

SOLD OUT

27/05/2020 - 28/05/2020
About

The Self-Harm Assessment and Management Programme for General Hospitals- SAMAGH- is an evidence-informed training programme that addresses the knowledge gaps and needs of clinical sub-groups of patients who present with self-harm to hospital. SAMAGH is an advanced training programme aimed for healthcare professionals supporting patients who self-harm. Assessment and management of self-harm patients within time and resource limited settings such as hospitals can be challenging and complex. SAMAGH aims to improve the assessment and management of self-harm patients within hospital settings.
The SAMAGH training programme is an advanced training, designed for healthcare professionals working in hospital settings who are in contact with patients presenting with self-harm. SAMAGH is funded by the Health Research Board Ireland.
The SAMAGH Training Programme is a two-day course. Upon successful completion, participants receive a certificate of attendance.
Course Prerequisites:
Before attending the two-day course, participants are required to complete an online E-learning Programme (www.suicideresearchpreventionelearning.com). When participants register to attend the SAMAGH Training Programme, they will be emailed instructions to complete the E-Learning, one week before the two-day training. The E-Learning is composed by 8 modules where key concepts and background to self-harm and suicide prevention are introduced to participants.
Requirements for Successful Course Completion:
Complete the E-Learning Programme
Attend the 2 day simulation training
The training components of the SAMAGH training programme are summarised in the figure below.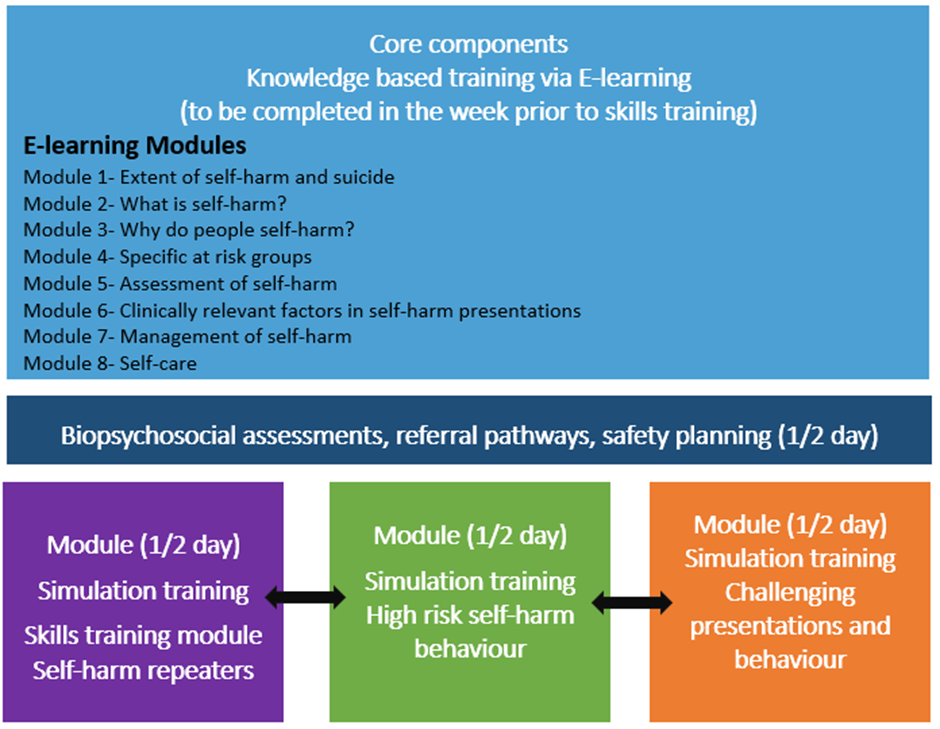 Venue:                
ASSERT Centre
Brookfield Health Sciences Centre
College Road
University College Cork
Cork

Accreditation
SAMAGH is a certified short course for the Nursing and Midwifery Board of Ireland. Upon completion of the training programme, successful participants will receive 10 CEUs (Continuing Education Units).
SAMAGH is certified CPD event for the College of Psychiatrists of Ireland. Successful participants will receive 11.5 External Credits by the College of Psychiatrists of Ireland.